Infrastructure as a safe haven
Investments in real assets such as listed securities of real estate and infrastructure companies are a great way to help mitigate adverse inflation impacts. Why?
Unique regulatory treatment
Infrastructure companies are regulated in a way that they are less vulnerable to inflationary spikes. For instance, if an increase in interest rates threatens their bottom line, these companies have enough power to increase prices and keep profitability in check.
Favourable contractual provisions
Infrastructure companies often incorporate clauses in their contracts to adjust charges for inflation. In essence, contractual provisions allow the asset owners to pass on inflation concerns through higher unit prices such as rents, utility rates and tolls. 
The chart below showcases how global infrastructure generally tracks or exceeds inflation dictated by CPI, supporting the case that infrastructure can offer inflation protection.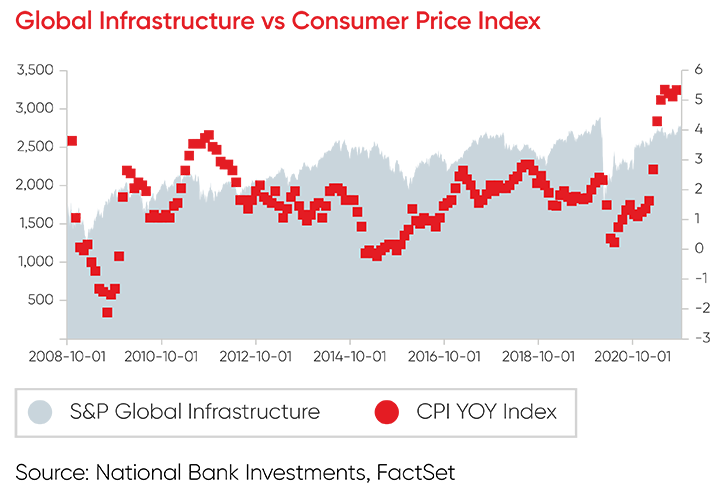 Stability in cash flows and dividend growth
Other key features of global infrastructure are the high barriers to entry and the physical assets, which are difficult to replace and often essential for society to function (such as utilities). Infrastructure assets tend to benefit from predictable rising cash flows due to inelastic demand and monopolistic traits. This enables them to have a steady stream of cash flows over the long run and leads to strong dividend growth across multiple market cycles and macroeconomic scenarios.
In short, investors concerned with both long-term inflationary trends and near-term pricing surprises may find it worthwhile to investment in infrastructure and real assets!
Investing in NBI's Global Real Assets Income Strategy
One might think that higher interest rates and inflation affect the financial performance of all businesses in the same way. In reality, this couldn't be further from the truth. As shown, interest rates and price pressures have less influence on infrastructure investments than most investors think.
Why invest in this Fund?
By investing in the NBI Global Real Assets Income Strategy, you can benefit from:
Possible mitigation against higher interest rates and inflation
High dividend yield potential
Enhanced diversification due to the low correlation between real assets and traditional stocks and bonds
Learn more about the NBI Global Real Assets Income Fund and the NBI Global Real Assets Income ETF.